How to maximize your first visit to the Hawaiian Islands
Hawaii is one of those places that never lets up. You can return time and time again and there will always be something fantastic to experience — from tropical beaches and world class surf to fiery volcanoes and lush rainforests. With so much choice, it can be tough making any decisions on things such as where to go and what to do. So if you're visiting Hawaii for the first time, then make sure to read this blog (And when you're ready to search for flights, Cheapflights.com can help with that, too.)
Search for cheap flights to Honolulu
When to Go?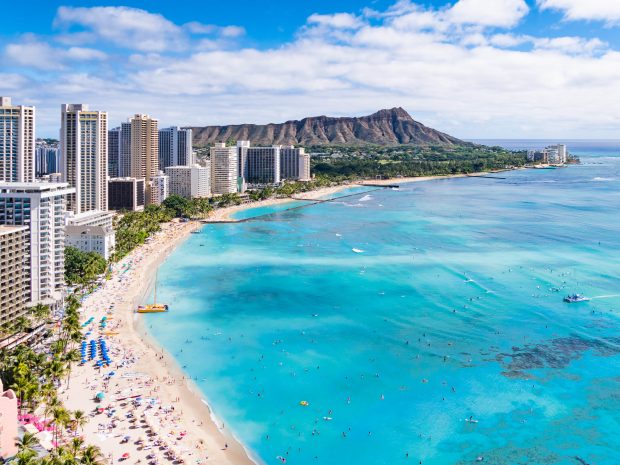 First things first, Hawaii is pretty great even during the so called "cool" season.
The weather in Hawaii is always warm, dry(ish) and hot in the summer, then wet and warm in the winter. So, while  summer is slightly preferred, it's the weather elsewhere that really determines the crowding. During the colder months of December to February, people flock to the islands to get a bit of sun. Peak season runs from December to April (especially during the Christmas holidays). Throughout the rest of the year, things slow down a bit with a second spike during the summer.
That leaves fall (September to November) and spring (March to June). While fall is the rainy season, which is wet but not unpleasant, spring is a slower season with emptier beaches and lower prices. May and June are the "sweet spot" for a Hawaiian vacay: the meeting place of great weather and reduced crowds. It's also the end of the growing season, so the fruits on your table and the flowers everywhere are at their freshest. Avoid the first week of May as it's a "Golden Week" in Japan (a period of concentrated holidays making it a popular time to travel) and Japanese travelers flood the islands in much the same way that Christmas travelers do during the second half of December.
Where to Go?
Surf, sand and luau are the staple tourist activities when you think of Hawaii, but that's far from the limit of what the islands have to offer. Which island is best to visit depends on what you want out of your trip. Although the chain itself includes hundreds of atolls and islands, only six support tourism.
Oahu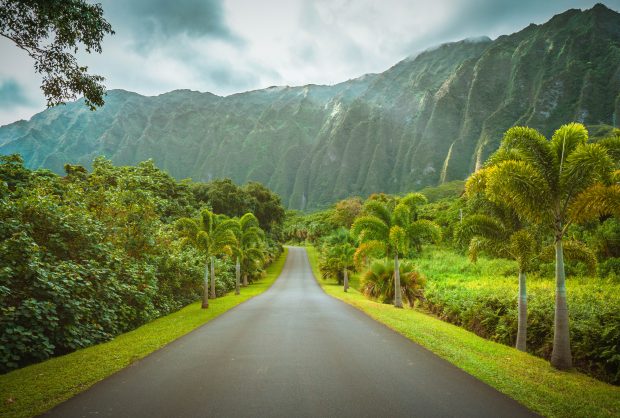 Oahu is both the landing point and the final destination for many Hawaii trips. After all, Honolulu International, the busiest of the states's airports, is located there. Oahu is your classic Hawaiian island tourist adventure spot. Want to lounge on a beach drinking mai-tais in between a surfing lesson and a luau dinner? This is the spot. Because it's the most heavily developed for tourists, it's also a good solution for families with young children or other travelers who favor simplicity and convenience.
The range of accommodation on Oahu is wide and varied, fitting nearly any price range. Some recommended hotels for the island include The Modern Honolulu, Halekulani and the Kahala Resort.
Food and drink on Oahu is a culinary adventure with sushi, western and local fare at pretty much every corner. Some of the best eats you'll find are from the myriad of food carts which have been an island staple since before food cart culture found the mainland.
Don't miss the various military tours if you have any kind of history buff in yourself or your travel companions. The Pearl Harbor and Aviation Museum tours go on top of this list, with plenty of other options for those who want to dedicate more time to delving into the past.
A traditional luau show feels kitschy or touristy to some, but you can't go to Oahu and not check it out.
Big Island (Hawaii)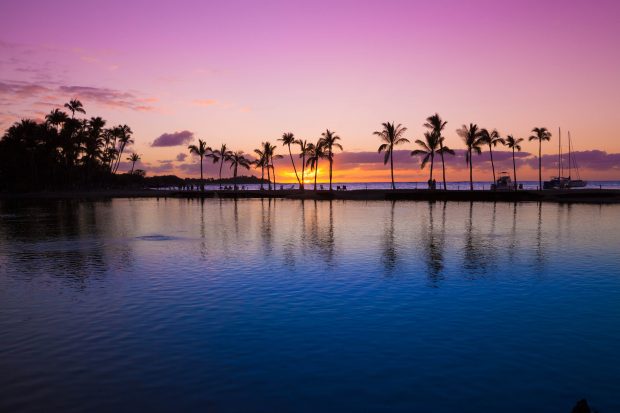 Between Kilauea (the world's most active volcano), waterfall pools at the end of jungle trails and strings of white sand beaches, Hilo is among the best spots for hiking and wildlife viewing in the world. If you spend more time with a backpack on than off, this should be your Hawaiian port of call.
There are a few fine dining options, but really, the simpler fare is both tastier and a more authentic. Try Village Burger in Waimea, Hilo's Moon & Turtle and shockingly good Italian at Pueo's Osteria.
Don't miss swimming and snorkeling at any of the beautiful beaches on the island. They don't have the massive coral and wildlife viewing of some of the other islands, but the surf is friendly and so are the giant sea turtles. Take at least one night to drive to the crest of Kilauea and visit the observatory. It has some of the best viewing conditions in the world.
Maui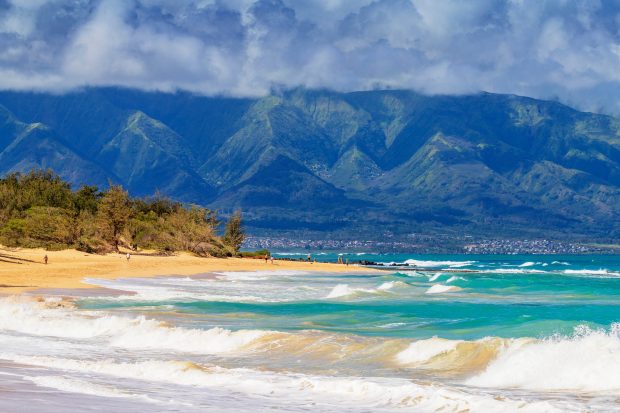 Maui features beaches of every sort imaginable. Windswept surf for sailboard and kiteboarding, crashing waves perfect for surfing, coral-bound coves for snorkeling, sheer walls for scuba and tiny beaches tucked away beside a rain forest trail are all accessible… along with plenty of developed beaches where you can lounge in a deck chair and be brought the mixed beverage of your choice.
Food and drink on Maui gets pretty adventurous. It's a bit of a hotbed of experimental cookery where local and Pacific tastes mingle with western fare. The result is divergent fine dining at places like Banyan Tree and Nick's Fishmarket, mid range restaurants like Da Kitchen and Maui Brewing Company, and quick fixes from Be Le Sandwich Shop or 808 Deli.
Don't miss snorkeling or diving in the Molokini Crater, a volcanic atoll home to everything from bright fish schools to shark colonies. When you feel like being dry, take a day for a guided hiking tour along the Haleakala crest to view one of the largest dormant volcano craters in the world.
Kauai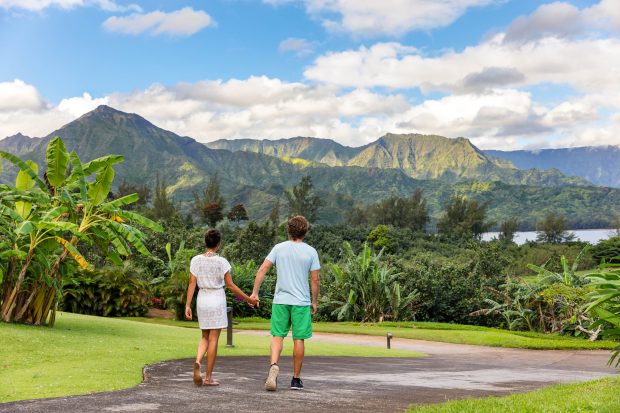 Probably the best all-in-one location for people who want to go deep into all the things Hawaii has to offer, Kauai has a little bit of everything. Enjoy fabulous beaches and swimming on the South Shore. Hike deeply cut canyons and jungles across the middle of the island and chill in the off-beat, rural North Shore community. The island's small enough to do it all in a week
Food gets interesting once you wander away from the resorts themselves, which we highly recommend you do. We recommend tacos, which are generally delicious on the island. For sit-down fare, try Tidepools, Tahiti Nui, or the Beachwalk.
Don't miss at least one hike in Waimea Canyon, called the Grand Canyon of the Pacific. It's an island ecosystem inside an island ecosystem, and you are guaranteed to see something you haven't before. Hike to the Na Pali Coast, nestled between towering and waterfall-festooned cliffs on one side and emerald water on the other.
Molokai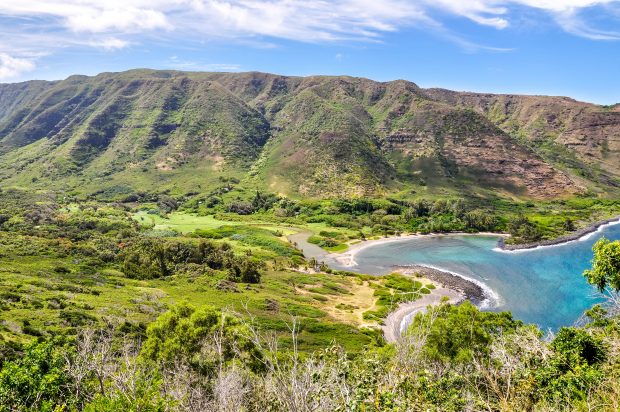 If you love, or are just fascinated by, authentic Hawaiian culture, come to Molokai. More than half the residents of this island are indigenous, and the policies of the local communities place preserving local culture over raking in tourist dollars. The authentic welcome and access to ancient sites are well worth the trip.
Hotel Molokai's in-house restaurant, the Hula Shores, does not take advantage of its monopoly. It offers luxurious fine dining at close-to-market prices. Out in the island itself, you have a host of more casual options like Mana'e Goods n Grindz and Sundown Deli.
Take the trip up trail to Kalaupapa. It's a 1,700 foot vertical climb along the world's tallest sea cliffs. Experts report it's best done on mule back, and you can hire from one of several vendors eager to give you this unforgettable experience.
Lanai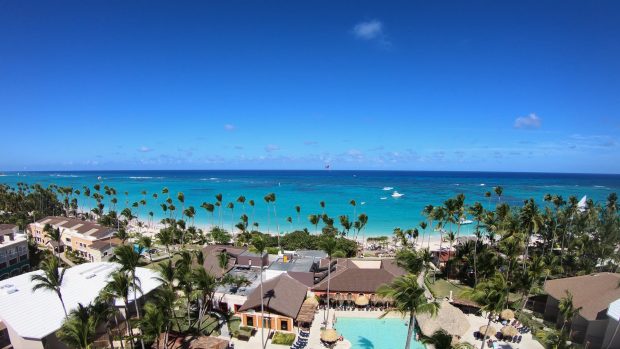 Isolated, even from the sight of other Hawaiian islands, Lanai is your place to go if you want to avoid the crowds. This is not the island for big luau shows and nightlife, or even for long hikes through jungle paradises. It's for a mellow time spent exploring the water between naps on the beach. It's also a bit harder to get to (and more expensive), so you'll run into fewer families on vacation here
Don't miss taking at least one of several off-roading adventure opportunities on the island. You'll get close to nature by zipping through it at alarming (but perfectly safe) speeds, and see more of the island than you ever could on foot.
Also make sure you see Shipwreck Beach; it is exactly what it sounds like: a beach with a WWII liberty ship rusting in the water. It's not safe to swim, but beach combing and tanning are practically mandatory.
Read more on traveling to Hawaii
10 tips for exploring Hawaii on a shoestring budget
81 thoughts you have when landing in Hawaii
Honolulu's best kept secrets
Which island do you want to visit first? Share with us in the comments and start your flight search on Cheapflights.com